In a study of children aged 2-5, parents interrupted their daughters more than their sons, and fathers were more likely to talk simultaneously with their children than mothers were. Jennifer Coates says: "It seems that fathers try to control conversation more than mothers… and both parents try to control conversation more with daughters than with sons. The implicit message to girls is that they are more interruptible and that their right to speak is less than that of boys."
Girls and boys' differing understanding of when to talk, when to be quiet, what is polite and so on, has a visible impact on the dynamics of the classroom. Just as men dominate the floor in business meetings, academic conferences and so on, so little boys dominate in the classroom - and little girls let them.
—
X  (via albinwonderland)
Working with children for over a decade, this is something I've noticed, actually. And for the majority, the little girls in my class and my co-worker's classes all sit quietly and listen MUCH better than the boys do. Most boys don't care to be quiet and sit still. And I don't think this is an attribute of boys being "rowdier" or more "hyper" - believe me, the girls are JUST as off the wall as the boys if you aren't telling them not to. It must be a learned behavior, and it must be enforced more with the girls so they know they can't get away with it. You have no idea how many times in my career I've heard "boys will be boys," and smiling parents as they tell me with a laugh, sorry, their son is "wild" and a "handful" as they introduce him to the class.
(via voicelikehelvetica)
And that's how you do sexism.  That's how it's so effectively trained into every single citizen and indoctrinated as normal and right.
(via waltzy)
It's never, never, never the woman's fault. No man has a right to raise a hand to a woman. No means no. […] The one regret I have is we call it domestic violence as if it's a domesticated cat. It is the most vicious form of violence there is, because not only the physical scars are left, the psychological scars that are left. This whole culture for so long has put the onus on the woman. What were you wearing? What did you say? What did you do to provoke? That is never the appropriate question.
—
Joe Biden on Today this morning (h/t Joy)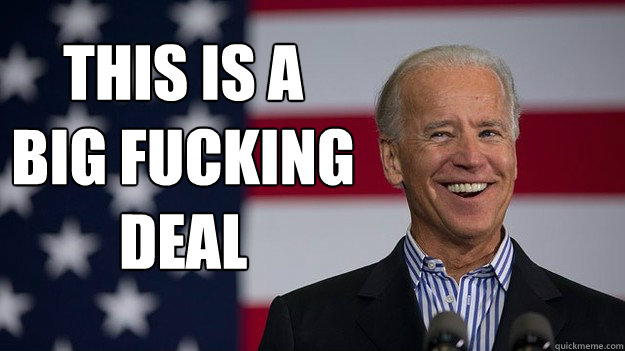 the older I get, the more I understand squidwards anger

You either die a Spongebob, or live long enough to see yourself become a  Squidward.
*tries to chill*

*accidentally does the most*
"Hey remember when you liked - "
don't mind my doc marten suede grey goat hair oxfords

sorry some of my beard wax for my curly muscle man mustache is sliding down into my mouth its ok its made from real honey comb wax i dont even mind the taste
Can a thin person have body image struggles? Can a thin person be at war with their self-image? Can a thin person hate to look in the mirror?

Absolutely.

And does that suck?

Absolutely.

But the difference between these negative feelings and fatphobia is this: The only person worrying about whether or not I'm meeting beauty standards is me.

And that's not the same for fat folk.

When you're not thin, other people on the beach actually do take offense. When you're not thin, people really do think that you shouldn't be in a bathing suit. When you're not thin, people really do make your body their moral obligation.

And while your internal struggle is real and significant, the point is: You might hate your body, but society doesn't.

That's thin privilege.
—
Let's Talk About Thin Privilege — Everyday Feminism 
You ain't got people legitimately denying you job and educational opportunities because of the fact that you are thin.

You will not have people taking your picture in disgust and have them use it as 'motivation' to not be like you.

You are represented in all forms of media in an overwhelmingly POSITIVE light.

Plain and simple. There is no place in this world where thin people are not put up as the ideal.

So can we stop acting as if someone being individually teased for being skinny is the same as the systematic way that fat people are told their bodies are always wrong because morality?
(via maxximalist)
"I used to think I was the strangest person in the world but then I thought there are so many people in the world, there must be someone just like me who feels bizarre and flawed in the same ways I do. I would imagine her, and imagine that she must be out there thinking of me, too. Well, I hope that if you are out there and read this and know that, yes, it's true I'm here, and I'm just as strange as you." - Frida Kahlo